We do flowers. Because. Couture. Any occasion. Weddings. Funerals. Proms. And Moms. And More.
Specializing in custom floral designs, Evergreen Florist is your hometown neighborhood flower shop with personalized customer service.
Our floral design studio on North Mason Street is in a pedestrian and bike-friendly neighborhood off Wisconsin Avenue in Appleton and includes an adjacent garden and community green space. We feature local and regional flower farmers, seasonal and special occasion offerings, and plants including blooming, succulents, and houseplants. We do flowers.
Opening a new floral design studio in the midst of a global pandemic meant putting our values first. We value our customers because they are our neighbors and friends. We value their health and well-being. "Flowers connect us whether we're six feet apart or six hundred," says Joe Whitehouse, designer. That means during this pandemic, and until further notice, our business services include no-contact home delivery, curbside pick-up, and a subscription service.
Evergreen Florist is owned and operated by the partners, Joe Whitehouse and Spencer Seim. Know your florist is more than a slogan or tagline. It's our business philosophy of transparency and accountability to our clients and community. We want to get to know you and bring more flowers and hope into your life. Let's talk flowers.
---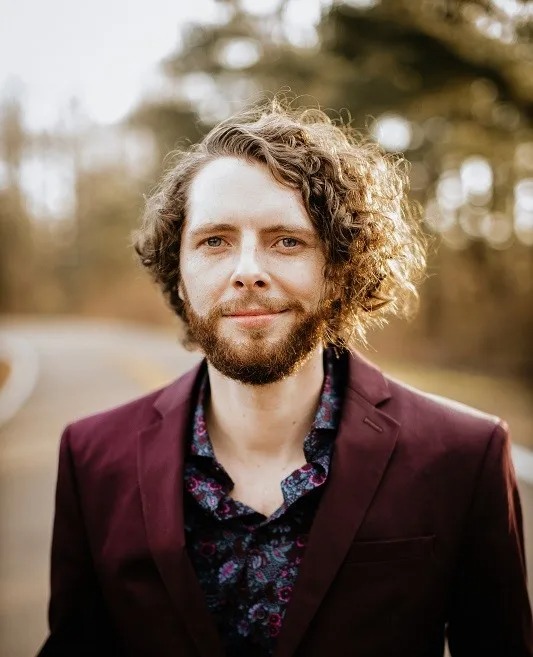 Joe Whitehouse
Meet Joe. Joe's superpower is his talent for personally customized designs.
Evergreen Florist is the culmination of a lifetime dream of its award-winning floral designer, Joe Whitehouse. He grew up working in his grandmother's flower shop: Evergreen Florist of Ripley, West Virginia. His grandparents had a greenhouse before they opened up the shop in the late 1980s. Joe majored in art in college and got his start working at his grandparent's shop in Ripley and The Gallery in Hurricane, West Virginia. More than seven years ago, Joe moved to Appleton and fell in love with the community. He worked for Charles the Florist—where he became an active member in the Wisconsin and Upper Michigan Floral Association and discovered design competitions—until the owner closed the shop in early 2020 after 55 years in business. Joe opened up his own floral studio in the new neighborhood in Appleton, because he is committed to being part of a more sustainable and loving community and found the perfect neighborhood to set down roots.
Joe listens to good music: Florence Welch, Karen Carpenter, and Nina Simone. He has two cats, Wynnever and Pine Nut. When he's not designing, you can find him enjoying a bowl of Coco Wheats, playing Animal Crossing, or re-watching The Magicians. His favorite album is High as Hope by Florence & the Machine. His favorite flower is the same as his grandpa's: High and Magic Rose.
"Leave room for the butterflies," Joe says. It's as much about dreaming of a future when pollinators flourish sweet as honey as it is about an aesthetic philosophy for his original designs. The creative use of negative space, repurposed containers, floral couture, and modern design draws attention to the beauty of nature.
Let Joe create something beautiful for you. Knowing your florist means your florist knows you. Tell Joe your story. You can tell Joe your secrets. Flowers have their own language. Joe speaks floral.
---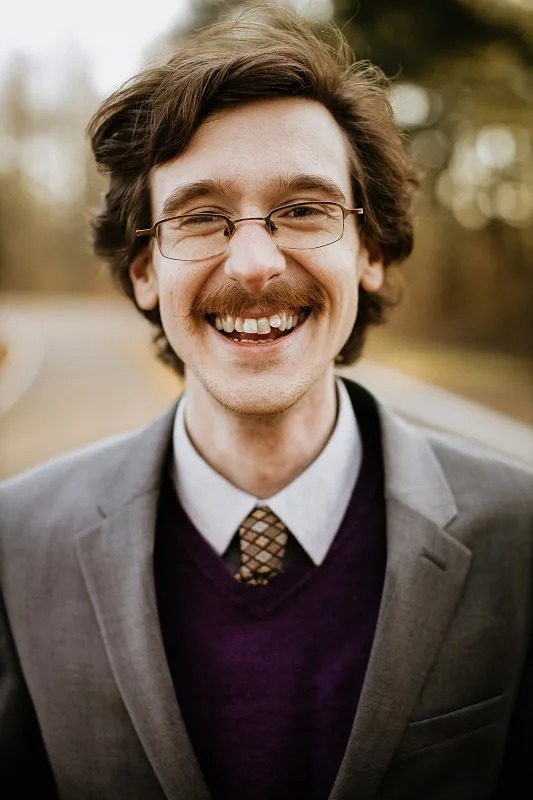 Spencer Seim
Meet Spencer. Spencer is a floral communicator. He translates floral into function. And he listens. That's his superpower.
Spencer also speaks several languages and learns new ones for fun. He studied comparative theology in college and had jobs in a bookstore and brewery besides most recently working with Joe Whitehouse at Charles the Florist in Appleton. He grew up in the Fox Valley which may explain why he recommends Tom Robbins' Fierce Invalids Home from Hot Climates. Spencer is the voice behind the curtain of Evergreen Florist. The teller of stories. He puts the green in Evergreen.
When Spencer's not in the shop taking care of plants, you'll find him cruising through town in Barb, our adorable van. When he's at home, he's probably in the kitchen. His favorite album is John Coltrane's A Love Supreme and his favorite houseplant is Aaliyah, his beloved Ficus Alii. He's also a fan of Raven ZZ plants.
Spencer provides the personalized customer care and delivery of services you expect from Evergreen Florist. Give him a call: 920/903-0347 Or email him: spencer@evergreenfloristofappleton.com
Let him help you.
---
Evergreen Florist is considered the floral provider of choice in the Local Appleton, WI Florist area. Our service is unsurpassed, our commitment unparalleled and our high-end floral designs are a testament to this. As the primo Appleton, WI florist, we strive to exceed each and every customer's expectation. The Evergreen Florist promise to our customers means quality, care and patience with every flower order and delivery. We guarantee your 100% satisfaction with our bouquets, add-ons and services as we turn your appreciation, sympathy, love and remembrance into something tangible, expressive and real. Our bouquets are designed to your exacting needs and we take care to deliver on your expectation. Here's why we're the Appleton, WI florist of choice: